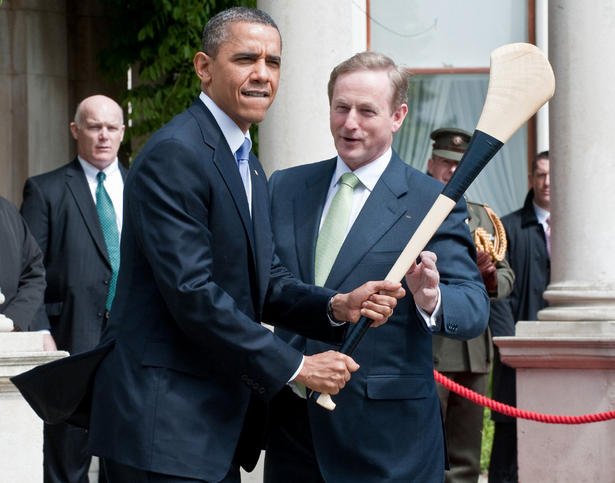 For some time now the Irish Government have chosen a handcrafted Torpey hurley as a gift to dignitaries on the occasions of their visit to Ireland, highlighting the cultural significance of Hurling to the Irish people.
The latest foreign dignitary to be presented with a Torpey was Vice-President of the United States Joe Biden who arrived on a state visit last month.
Mr Biden whose ancestors hail from Co. Mayo received a Torpey with his name signed in Irish by An Taoiseach Enda Kenny who wrote " Seosaimh O' Biden No 8" as Mr Kenny felt he would be suited to the Midfield role in a Hurling team! This latest presentation of course means that there is at least two new members about the get signed up to the Washington D.C Gaels Hurling team, with President Barack Obama receiving a Torpey on his state visit back in 2011. We would like to wish both the best of luck with their Torpey's and hope they will tune into the greatest game on grass in the future.
The United States has always been a hot bed of hurling potential due to its historical importance for many Irish diaspora, however , with the introduction of social media many other countries are now becoming aware or the sport of hurling. To help with this we have also had the pleasure of making hurleys for other foreign dignitaries including India Prime Minister Naranda Modi and the current President of the People Republic of China Xi Jinping, who was greeted personally by Torpey master craftsman John Torpey at Croke Park Stadium, Dublin in 2013.
To say we are proud to have these distinctions would be an understatement. We're looking forward to whoever may be next on the list!!